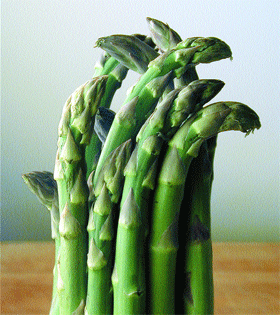 I love farmer's market (especially South Pas on Thursday nights) and this Saturday it was the perfect antidote to the dreary day and my weary mood. I've eaten so many cherries since then that it's embarrassing. And, although it's a little out of season, the asparagus that I made last night hit the spot.
My friend Sarah first made this recipe for me with asparagus from her garden. I think that was the first time I'd had asparagus that fresh and I've continued to make it this way. The presentation on a platter was so pretty but due to some technical difficulties (third time the computer is being fixed in one week - and I thought Macs didn't have problems) I have no picture of that. I didn't use all of the dressing so I made spinach salad last night with the leftover dressing.
Try it, you'll like it!
Sarah's Asparagus with Bleu Cheese
(serves 6)
1 1/2 lbs fresh asparagus cut into 2 inch wedges (I used 2 bunches)
2 small tomatoes, cut in wedges or diced
1/3 c. sliced almonds, toasted
1/3 c. crumbled bleu cheese
Dressing:
3 T cider vinegar
3/4 tsp. worcestershire sauce
1 T sugar (more or less depending on your taste)
1 T onion, diced or grated
1/2 tsp. salt
1/2 tsp. paprika
1/3 c. vegetable oil.
Cook asparagus in boiling water for 3-5 minutes or steam it until it's "crisp tender" (al-dente?). Add the tomatoes.
In a blender, combine the dressing ingredients and process until smooth. Toss with the asparagus/tomato combination and sprinkle the almonds and bleu cheese on top.