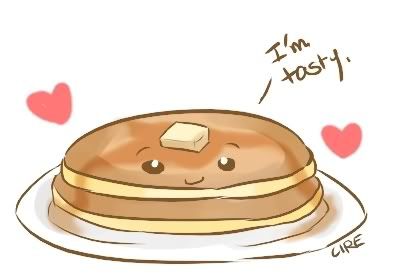 Big sister loves pancakes. About two weeks ago, I made them three mornings in a row. I usually make
this recipe
but I wanted to try something a little healthier by the third morning and the recipe below was the result. No white flour or refined sugar and they weren't bad . . . a little dense because of the whole wheat flour and oats. Play with the amount of milk (and you could easily use soy milk or almond milk) to get the consistency you like - I should have added a little more. Also, after talking to my Aunt Kathy about thin vs cake-like pancakes, I think I'd reduce the baking powder (or leave it out) next time around.
Healthy(ier) Pancakes
(makes about 8-10 pancakes)
1 cup whole wheat flour
1 cup oats
1 T baking powder
1 tsp baking soda
1 tsp cinnamon
1 egg
1 T honey
3 T plain yogurt
~1 cup (or more) milk
1 banana, diced
Whisk together the flour, oats, baking powder, baking soda and cinnamon. Then, add the egg, honey, yogurt and milk and stir until it's mixed. Don't overmix - a few lumps are okay. Fold in the banana.
Another way to do this is to put everything but the banana and oats in a blender and briefly blend until it's all mixed. Then, stir in the oats and banana.
Cook them in a hot pan or skillet however you like to make pancakes.