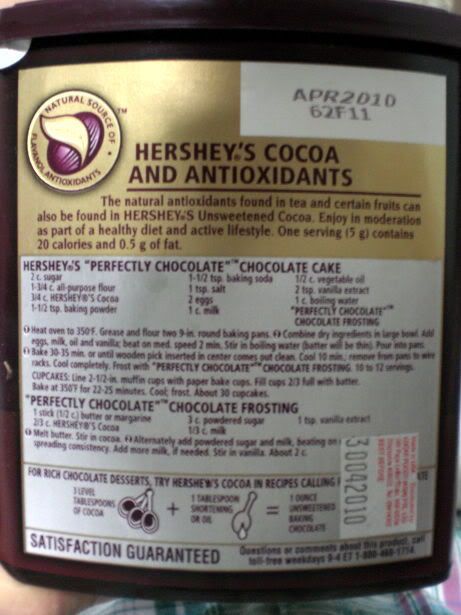 When I decided to make dessert for Memorial Day, I didn't want to go to the grocery store AGAIN so my options were to bake only using what I had in the house. And, since I wasn't going to be eating sugary, white floury goodness, I wasn't super inspired to be creative. I pulled out a box of Hershey's cocoa powder and read the recipe on the back for "Perfectly Chocolate Chocolate Cake." It looked easy and I had everything and it turned out great. The only thing I added was 1 tsp. of cinnamon (because I just can't help myself).
The frosting was from the back of the C&H Powdered Sugar box - again, super easy and I had fun tasting the frosting on the spoon when I was done with it.
Both of these recipes go along with the theme that making things from scratch is just as easy and cheaper with less scary ingredients (do you know how much trans fats are in tubs of frosting?). I've made cake mixes from a box most of my life but I've changed my ways, especially because I only used 1 bowl for each recipe and it was ready before my oven preheated.
I know this is probably a whole other topic, but cocoa powder is something that I don't buy generic brands - Hershey's is great and I also like the Ghirardelli.
Hershey's Perfectly Chocolate Chocolate Cake
2 cups sugar
1 3/4 cups all-purpose flour
3/4 cup HERSHEY'S Cocoa
1 1/2 teaspoons baking powder
1 1/2 teaspoons baking soda
1 teaspoon salt
1 teaspoon cinnamon (optional)
2 eggs
1 cup milk
1/2 cup vegetable oil
2 teaspoons vanilla extract
1 cup boiling water
Directions:
Heat oven to 350°F. Grease and flour two 9-inch round baking pans (or 1 9x13 pan). Stir together sugar, flour, cocoa, baking powder, baking soda and salt in large bowl. Add eggs, milk, oil and vanilla to the same bowl and beat with a mixer on medium speed for 2 minutes. Stir in boiling water (batter will be thin). Pour batter into prepared pans.
Bake 30 to 35 minutes (for 2 round pans) or 35 - 40 minutes (for 1 9x13 pan) or until wooden pick inserted in center comes out clean. Cool completely before frosting.
*Same recipe will make about 30 cupcakes - bake for 20-25 minutes.
Basic Buttercream Frosting
Combine 1 stick of butter (softened), 1/4 milk, 1 (1lb) box of powdered sugar, and 1 tsp. of vanilla in a mixing bowl. Beat it for about 2 minutes, or until it's the texture you want it, scraping down the sides of the bowl. Use a little more milk if you want it thinner. This will frost a 2 layer (9 inch round) cake or a 9x13 or about 2 dozen cupcakes.