My girls love pretend play and have great imaginations. They are always "being" someone and it changes so frequently that I usually hear Middle asking, "Are we still playing ___? Who are we being? I forget." I overheard a conversation between them today and thought I'd share some snippets:
Middle: My name is Friendy Friend. My superpowers are running and dancing.
Big: Well, my superpower is being a fairy mermaid. Wait, a fairy mermaid princess.
Middle: Mom, your superpower can be firing things and freezing things.
later . . .
Big: Ok. You be a dog. I'll be Rapunzel. With the short hair. And you're my dog and you live in the tower but you can talk.
Middle: Woof woof!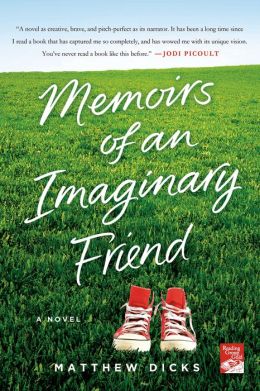 I also read a book recently that I highly recommend: Memoirs of an Imaginary Friend by Matthew Dicks. It's narrated by an imaginary friend and I thought it was creative, heartwarming, and an easy read - perfect for summer vacation! I liked thinking about my imaginary friend as a child and Big's imaginary friends (they're all in a club together and Big is the leader) and what they'd write.
Now, onto the food. You know that I like lasagna and I've made lasagna stacks, cheater lasagna, and other variations. Years ago, these lasagna rolls were in regular rotation but somewhere along the way, I forgot about them and misplaced the recipe. A couple of weeks ago, I found the recipe by searching Cooking Light online and made it again. They were yummy & easy - just like I had remembered!
You can play around with the filling (add meat, sub other veggies for the mushrooms) and can make a homemade sauce if you're so inclined.
Lasagna Rolls
(serves 4)
adapted from Cooking Light
8 uncooked lasagna noodles (traditional - not the no boil ones)
4 tsp. olive oil
1/2 cup finely chopped onion
1 8oz package presliced mushrooms
6 oz baby spinach
3 garlic cloves, minced
1 cup shredded mozzarella cheese (divided)
1/2 cup part-skim ricotta cheese
1/4 cup minced fresh basil, divided
1/2 tsp. salt
1/4 tsp. red pepper flakes
1-2 cups marinara sauce
Cook noodles according to package directions (omitting salt and fat if included). Drain and rinse under cold water. Preheat oven to 375 degrees.
Meanwhile, heat oil in a large non-stick skillet over medium high heat. Add onions, mushrooms, and garlic. Sauté for about 5 minutes or until the onion is tender. Add the spinach and saute another minute or two until the spinach is wilted. Remove from heat and stir in 1/2 cup mozzarella cheese, 1/2 cup ricotta cheese, 2 tablespoons of the basil, salt, and red pepper flakes.
Place noodles on a flat surface. Spread 1/4 cup filling over each noodle. Roll up noodles, jelly roll fashion, starting with the short side. Lightly spray a shallow baking dish with cooking spray and spread a little marinara in the bottom. Place the rolls seam side down on the marinara sauce. Pour a little sauce over each roll, sprinkle with the remaining mozzarella cheese (about 1 T per roll). Put the pan in the preheated oven and cook for 20-30 minutes or until the cheese is melted and the rolls are thoroughly heated. Sprinkle with the remaining basil before serving. (serving size = 2 rolls = appx. 400 cal).